Nutrition Counseling for Healthier Living
Developing good eating habits with a Registered Dietitian
One of the most important things you can do for your health is to eat nutritious food. Not only does a healthy diet help you maintain a good weight, but it also prevents health conditions from developing or getting worse. Nutrition counseling with a registered dietitian can help you build the skills needed to make healthy choices.
People of all ages and backgrounds need nutrition advice, including pregnant women, children, athletes, seniors and people recovering from an illness or injury.
Nutrition Counselors help people prevent disease and chronic health conditions through education. They emphasize the importance of eating nutritious foods and staying physically active. Nutrition counseling with Variety Care is here to meet your needs. For more information call 405-632-6688 today.
Our registered dietitians assist people experiencing:
poor weight gain
abnormal weight gain/loss
picky eating, poor appetite
abnormal labs (glucose, lipids, liver enzymes, iron)
gestational diabetes, constipation
chronic health conditions like diabetes and heart disease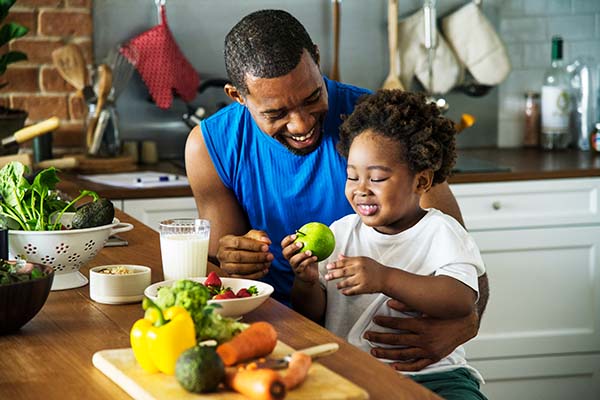 Nutrition counseling is more than just a weight-loss plan. Board-certified dietitians work with you and your family to create a strategy that not only fits your lifestyle, but one that you can maintain for the long run.
Nutrition counseling services at Variety Care include:
Nutrition assessment and education
Patient teaching and action planning for healthy living
Meal planning
Dietary improvements (such as altering or limiting fats, proteins and carbohydrates)
Nutrition monitoring
Nutrition support during hospital stays, surgery or illness
Services are provided at several Variety Care health centers as well as through telehealth. Call 405-632-6688 to schedule an appointment.
Nutrition counseling does not replace other forms of medical care. At Variety Care, your dietitian will work alongside your primary care provider and your behavioral health therapist if you have one. Variety Care believes in a team-approach to serving our patients. We work together to create a medical home for you and your family.
Healthy Expectations
Another way our registered dietitians serve patients is through Variety Care's Healthy Expectations program. Healthy Expectations is a program for pregnant women and their children up to age 5. The program offers medical, nutritional, behavioral health and social service needs to help families foster better health outcomes.
Meeting the needs of children early on helps set them up for success with school readiness and long-term health.
Women, Infants and Children (WIC)
Variety Care also offers WIC to eligible families. WIC provides nutrition and healthy lifestyle education to women, infants and children up to 5 years. Learn more about WIC services.
Nutrition counseling services are available by registered dietitians Monday - Friday between 8:00am-5pm. To schedule a nutrition counseling appointment, call Variety Care at 405-632-6688.
Call today to learn more
or make an appointment.
We are available by phone: Monday - Friday from 7:30am - 7:30pm, Saturdays from 8:00am - 5:30pm