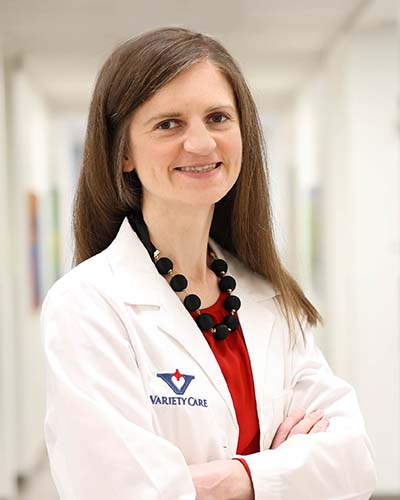 Phone: (405) 632-6688
Primary Location
Variety Care Straka Terrace
1025 Straka Terrace
Oklahoma City, OK 73139
Get Directions
Karen Sargent, MD, FACOG
Medical School: University of Texas Medical Branch in Galveston
Specialization:
Women's health including obstetrical care

Patient Care Philosophy:
"I strive to put my patients' needs first and to provide the best evidence-based care available. I also want patients to be advocates for their health; ask questions; speak up. Medicine is sometimes a mystery; I don't have all the answers, but the practice of medicine is teamwork. I am here to provide or search for the resources in efforts to improve a patient's health."
Karen Sargent, MD, FACOG is a highly dedicated women's health doctor. She is a member of the American College of Obstetricians and Gynecologists and values the trust patients have in her. Dr. Sargent always holds her patients' best interest at heart and aims to make them feel comfortable enough to share information in potentially vulnerable situations. Furthermore, she believes that health begins in the community; while health is individualized, the "healthiness" of the community plays a vital role in contributing to individual wellness. She is hopeful that we can all work together to make our community a healthier place. As a member of the Variety Care provider team, she enjoys interacting with patients to provide them great obstetrics and gynecology care. During her free time, Dr. Sargent enjoys having conversations with friends over a delicious meal.
Variety Care Straka Terrace

1025 Straka Terrace,
Oklahoma City, OK 73139
Phone: (405) 632-6688