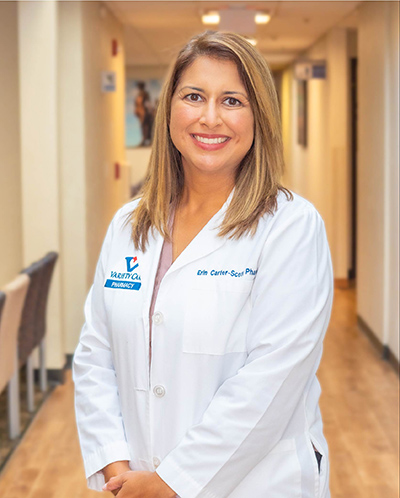 Phone: (405) 632-6688
Primary Location
Variety Care Straka Terrace
1025 Straka Terrace
Oklahoma City, OK 73139
Get Directions
Erin Scott, PharmD, RPh
Pharmacy School: Drake University College of Pharmacy & Health Sciences
Specialization:
Patient Care Philosophy:
"To provide accurate counsel, affordable medication options and timely service."
Erin Scott, PharmD, RPh is a pharmacist that aspired to serve in the medical field since she was young. She is a passionate and insightful pharmacist who aspires to provide accurate counsel about medication options. She wants her patients not only find affordable treatments but also have them delivered in the most timely manner possible. As a member of the Variety Care provider team, she enjoys working with a team that is passionate about serving the community. During her free time, Erin enjoys spending time with her family.

Variety Care Straka Terrace

1025 Straka Terrace,
Oklahoma City, OK 73139
Phone: (405) 632-6688