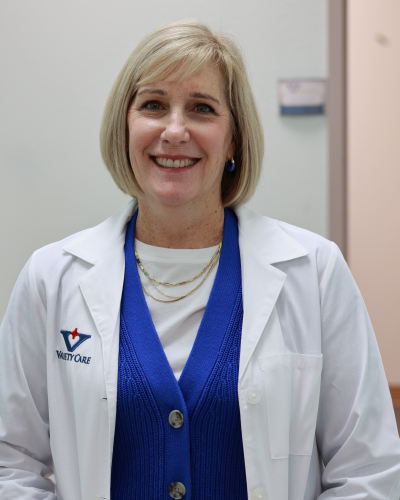 Phone: (405) 632-6688
Primary Location
Variety Care Norman Alameda
1237 Alameda St.
Norman, OK 73071
Get Directions
Sally Kerr, MHR, LPC
Specialization:
Patient Care Philosophy:
"I believe it is important to treat the whole person. Mental health and physical health are equally important to an individual's quality of life."
Sally Kerr, MHR, LPC Director of Behavioral Health at Variety care. She found that patients were receiving fragmented health services, so she wanted to work for an integrated healthcare system where all aspects are addressed together in one place. Now as part of the team at variety care, Sally enjoys working with her fellow providers because they focus on treating each patient holistically by addressing their mental and physical needs simultaneously rather than separately like most other centers. As a member of the Variety Care provider team, she enjoys working with her dedicated care team. During her free time, Sally Kerr enjoys traveling, reading, and spending time with friends and family.
Variety Care Norman Alameda

1237 Alameda St.,
Norman, OK 73071
Phone: (405) 632-6688