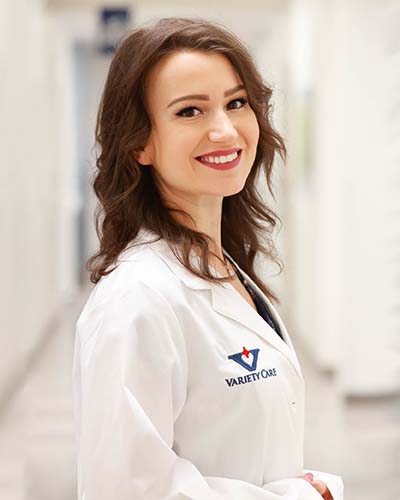 Phone: (405) 632-6688
Primary Location
Variety Care Reno
4000 W Reno Ave
Oklahoma City, OK 73107
Get Directions
Keely McGough, APRN, DNP, FNP-C
Nursing School: Oklahoma City University Doctorate of Nursing Program
Specialization:
Patient Care Philosophy:
"I would describe my care philosophy as servant leadership. I am here to serve my patients and I use my skills and knowledge to lead them to a path of wellness."
Keely McGough, APRN, DNP, FNP-C is a family medicine nurse practitioner that is dedicated to extending passionate care to all individuals. She is a member of the American Association of Nurse Practitioners and received her Doctor of Nursing Practice degree from Oklahoma City University. She values empathetic communication and has practiced it throughout her nursing career. When patients feel heard and understood without judgement, trust is built – which leads towards better health outcomes. As a member of the Variety Care provider team, she enjoys working with a team that shows kindness towards each other and patients. During her free time, Keely enjoys watching musical performance, CrossFit, watching telenovelas, cake baking, and volunteering abroad.
Variety Care Reno

4000 W Reno Ave,
Oklahoma City, OK 73107
Phone: (405) 632-6688